In anticipation of the A More Diverse Universe challenge in September (still looking for button designers, by the way!), last week I posted a list of non-fiction books by diverse authors. Thank you to everyone who chimed in with recommendations! I love when people do that, it makes me feel like part of an active community.
Now that I've gotten non-fiction out of the way, though, I'm a bit flummoxed about the entire fiction genre. It's so vast! And there are so many sub-genres! And how do you compile a list? I chose to start with historical fiction because it seems like a very popular reading genre. And, more importantly, unlike fantasy and young adult fiction, I don't think there are a ton of resources out there to help guide you to a book choice if you enjoy historical fiction and want to read more diversely.
I am taking a page from the
#WeNeedDiverseBooks
campaign (which is a
glorious
website and the main reason I will not be devoting a list to young adult fiction), and using the "If you like ____, then read _____ next because _______" format here. Hopefully you will find something that piques your interest!
Similar to my non-fiction list, I will not include here books that are only about immigration or cultural differences or assimilation. There are
so
many books out there like that, and I think they are part of the reason people are intimidated to read diversely - all the books sound the same. But there are so many other rich stories out there for you to discover, and I am going to focus on those here.
And if you have suggestions here, too, please feel free to fill up the comment section!
If you like
John Shors' Beneath a Marble Sky,
then read
The Twentieth Wife, by Indu Sundaresan
, because it's about a woman who rises to become Empress of the Mughal Court in 17th century India.
If you like
Winter's Tale, by Mark Helprin
, then read
The House of the Spirits
, by
Isabel Allende
because she rocks the magical realism in a big old rambling house, too.
If you like
Colin Cotterill's
The Coroner's Lunch
about life in Laos under an oppressive Communist regime, then read
Malla Nunn's Detective Cooper series
because it features a gloriously conflicted detective in Apartheid South Africa.
If you enjoy
CS Forster's Horatio Hornblower
series, try
Amitav Ghosh's Sea of Poppies, the first book in the
Ibis Trilogy
, set on a huge trade ship during the Opium Wars of the 19th century.
If you like the big, chunky family epics, then try
One Hundred Years of Solitude,
by Gabriel Garcia-Marquez
because it reads like a beautiful, lyrical soap opera across the decades.
If you like
Margaret Mitchell's
Gone with the Wind
, try
Wench, by Dolen
Perkins-Valdez
for a telling and intense story of what life was like as a slave.
If you like
Pearl S. Buck's
Pavillion of Women
, then read
Peony in Love
,
by Lisa See
for a different look at life as a woman in imperial China.
If you like
The Secret River, by Kate Grenville
, then read
Benang, by Kim Scott
because it talks about the European treatment of Aborigines from the side of the Aborigines.
If you liked the gritty, complicated relationships that populated
The Bone People, by Keri Hulme
, then read
Potiki
, by Patricia Grace
because it too focuses on how complicated the race situation in New Zealand can be.
If you like
Frog Music, by Emma Donoghue
, then read
China Dolls
,
by Lisa See
about another rollicking time in San Francisco's history, the 1930s.
If you like
Hotel on the Corner of Bitter and Sweet, by Jamie Ford
, then read
When the Emperor Was Divine, by Julie Otsuka
about life in the American internment camps for Japanese during WWII.
If you like
When a Tree Grows in Brooklyn, by Betty Smith
,
try
Small Island, by Andrea Levy
as it also focuses on the tough life of an immigrant family trying to make it in a big city.
If you enjoyed
To Kill a Mockingbird, by Harper Lee
, then read
The Round House, by Louise Erdrich
, which turns the story on its tail and focuses on a Native American woman unable to go after the man who abused her. To be fair,
The Round House
is not technically historical fiction, but if you enjoy
To Kill a Mockingbird
(which was not historical fiction when it was written), then you really should read this one.
If you like the pageantry and court intrigue of
Wolf Hall, by Hilary Mantel
, then try
Fudoki, by Kij Johnson
, set in the pomp and glory of 11th century Japan.
If you enjoy fairy tale retellings, then try
Boy, Snow, Bird, by Helen Oyeyemi
, which is a retelling of Snow White. Or try
Thorn, by Intisar Khanani
, a retelling of The Goose Girl. Or
The Palace of Illusions, by Chitra Divakarumi
, a feminist retelling of the Hindu epic The Mahabharata.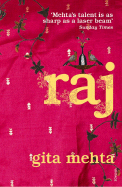 If you enjoy
MM Kaye
's stories about India under the Raj, then read
Raj, by Gita Mehta
, about life as a member of the increasingly marginalized ruling class in India.
If you enjoy
Shogun
,
by James Clavell
, try
Musashi, by Eiji Yoshikawa
for an epic tale of life as a samurai in the 17th century