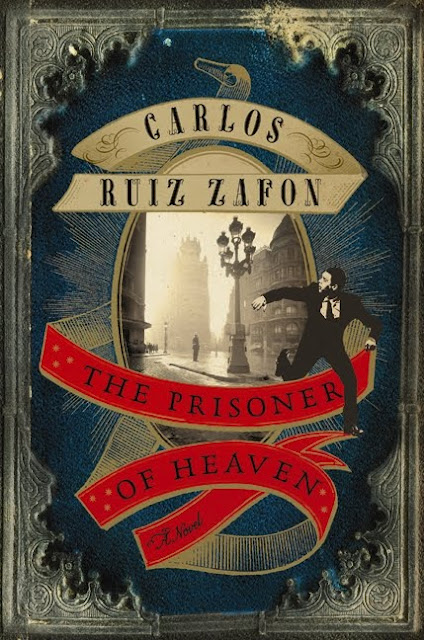 The Shadow of the Wind
, by Carlos Ruiz Zafon, is one of those very rare books that my sister, my brother and I all really enjoyed. (In fact, it may be the ONLY book that all three of us have enjoyed.) So whenever a new book in the series comes out, we get very excited and all try to read it around the same time so that we can discuss it. That's what happened with the newest installment in the
Cemetery of Forgotten Books
series,
The Prisoner of Heaven
.
I did not re-read the other two books in the series before starting this one because Ruiz Zafon says that each book can be read and understood on its own and that you can read the books in any order to get the full story.
I must say that I disagree with this statement. There were so many names mentioned in this book that were vaguely familiar to me, and I think that if I had re-read the previous installments in this series, I would have made the connections and enjoyed
The Prisoner of Heaven
much more.
The Prisoner of Heaven
picks up soon after the end of
The Shadow of the Wind
. Daniel Sempere, his father, and his best friend Fermin are all still working in their bookstore. One day, a frightening man to whom money is no object comes in looking for Fermin. He purchases a copy of
The Count of Monte Cristo
, writes a note in it for Fermin, and hands it to Daniel. When Daniel gives it to Fermin, his friend becomes very frightened and finally tells Daniel about his past, and just how closely connected he is to Daniel.
It is possible that I just missed a lot of what happened in this book, but it felt very incomplete to me. The ending made very little sense to me and throughout the book, I just felt like Daniel was being slowly poisoned by this obsession to learn more about his past, even though everyone told him to drop it. He was not likable in this book. He ignored his present and his future in his hopes to understand his past. This is something that annoyed me about
Rain Village
when I read it a few years ago - I just don't understand this obsession with closure and finding out everything that ever happened to people when they specifically do
not
want you to know.
One of the things that really stood out to me most about
The Shadow of the Wind
and
The Angel's Game
was the fact that Barcelona itself was a main character in the stories. This is less true in
The Prisoner of Heaven
, mostly because a significant portion of it takes place in a prison. The spooky atmosphere was present, but the magic of the first book was missing.