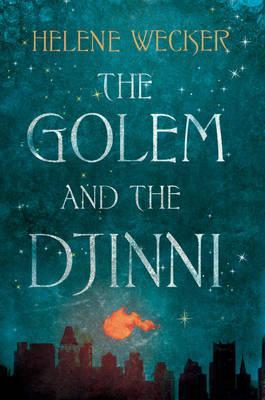 Hele Wecker's
The Golem and the (D)Jinni
is set mostly in Manhattan, right at the turn of the 20th century. The two main characters are Chava, a golem, and Ahmad, a jinn. Chava was created to be the wife of a man who died on their voyage to the new world. Ahmad has no idea how he ended up in Manhattan - his last memory is from about 1000 years ago. In contrast, Chava's first memory is of waking up on the ship and meeting her (ill-fated) husband.
Ahmad and Chava both stumble through their new lives in New York, trying to understand humankind - the relationships that form between people, the decisions they make, how they treat each other, who has responsibility for what actions. They also, serendipitously, meet each other one evening, and embark upon a friendship that helps both of them understand their place in the world and deal with the consequences of their natures and decisions.
I found several things very interesting about this book. I'm a sucker for
any
story with mythology or folklore or mysticism, and this book is full of all those things. For that reason alone, I wanted to read the book. But there was more! For example, I really liked the way Wecker played out the tension between each character's true nature - for Chava, to solve everyone's problems, for Ahmad, to disregard everyone's problems - and their attempts to fit into human civilization. Chava, for example, is terrified that one day, her true nature will come out and she will beat everyone around her to a bloody pulp because that's what golems
do
when they are threatened. In conrast, Ahmad thinks humans over-complicate everything, and people should just do what feels good and damn the consequences.
In that way, Chava and Ahmad play out traditional gender roles even though they are not human. Ahmad toys with plenty of women, and they are the ones who have to wake up in the morning, bereft, while he just moves onto the next person. But it's not that Ahmad doesn't care about those women; it's that
humankind
fascinates him, and he needs to understand the whole species, not just one person. And so he moves on. Chava's whole purpose in existing, on the other hand, is to do what other people tell her to do. In fact, they don't even have to
tell
her, they just have to think it and she'll know. She is therefore very eager to please and worries constantly about whether she did the right thing.
Though the main characters were pretty fascinating on their own, I think there were far too many secondary characters who didn't really progress the story that much. There's a bored, rich girl (doesn't every book set in early 20th century America require one of those?). There's a curious Bedouin girl. A cursed ice cream seller. A lonely, quiet boy. A lonely, quiet man. A concerned father. A creepy old man. A creepy middle-aged man. A kind middle-aged woman. And more, and more. We get back stories on several of these characters. And, in general, I enjoyed these back stories, but I don't think they were necessary. The two title characters in the novel don't even meet until 1/3rd of the way through the book (what is this,
Anna Karenina
?). And while I enjoy a good, atmospheric, meandering story, this one just felt weighted down by all those characters.
That said, it's a great story to read on a cold, damp night!