I cannot believe it took me so long to read Marjane Satrapi's
Persepolis
. I saw the animated film years ago, but what really pushed me to read this one was when I saw Satrapi about a month ago at the
Chicago Humanities Festival
. She was just so vibrant and fun and apolitical (and said a lot of things about feminism that I pretty strongly disagree with) that it really made me want to read more of her books.
So, finally!
Persepolis
. The comic is the story of Satrapi's life in Iran, growing up with a big, liberal, loving family as the government becomes increasingly totalitarian. Satrapi writes about the early influences in her life - her grandfather and uncle, both of whom fought for people's rights. She moves onto her teenage years in Vienna, struggling to come of age in a country so foreign to her upbringing and so far from her family. And then the difficulties of coming home to an Iran that was so different than what she remembered, and became increasingly difficult to deal with.
I loved this book. The artwork and the writing are seamlessly integrated, in such a manner that I highly recommend
Persepolis
as a starter comic if you are concerned about reading a comic and are not sure how to deal with the words and pictures. I am always concerned that I don't pay enough attention to the artwork in graphic novels, but in
Persepolis
, I had none of that concern: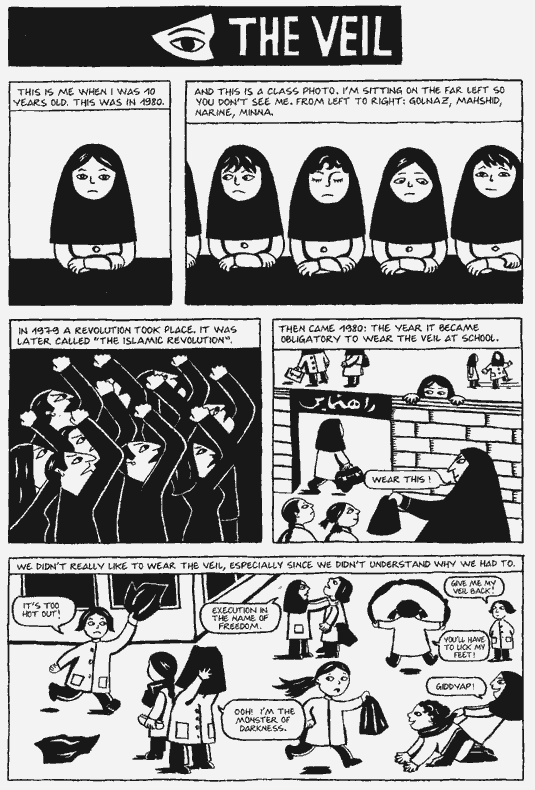 I also feel like Satrapi does such a great job of showing us everyday Iranian life. She did the same thing in
Embroideries
, and I can see why people say that
Persepolis
is so much better than
Embroideries
. What I enjoyed about
Embroideries
was the rich, deep relationships that existed between the women in the book. And that is true x1000 in
Persepolis
. There is such a deep love between Satrapi and her parents, between Satrapi and her grandmother. And her whole family is so supportive of her - not just when she shows her brilliance, but also when she makes mistakes. And they never tell her to be afraid or to bow down to authority - they let her make her own decisions and live her own life and are very proud of her when she stands up for her rights.
This was truly a beautifully written, funny, and wonderful book. I am so glad that I finally read it, and I can't wait to read Satrapi's
Chicken with Plums
and perhaps
watch the movie that she directed
this year!