This weekend, I posted a
preview to the revamped A More Diverse Universe
event that will take place over the last two weeks of September. The event challenges you to read and review
just one book by a person of color
during those two weeks. In previous versions of the challenge, #Diversiverse focused solely on authors of science fiction and fantasy. This year, I'm opening it up to authors of any and all genres because I think it's important that people realize not only the depth but the breadth of books out there on so many subjects written by people of color.
Therefore, I'm putting together lists of books for people who are interested in reading within particular subjects and parameters. I figured that I would start with non-fiction, as that is by far the most difficult "genre" in which to find diverse authors. It's easy to find books about
being
a minority in Western culture or growing up in war zones in other countries, so I purposely excluded books like that from this list. Sadly, it's extremely difficult to find books by diverse authors on say, popular science or current events. Therefore, this list is more of a jumping off point; it is by no means exhaustive. I would LOVE for people to provide suggestions, and I am happy to add them to this list.
It is pretty exhausting putting together lists like this - for this list, I've gone for quantity over quality as I have not read the vast majority of the titles I list below and therefore don't want to write a misleading blurb about them. Hopefully, though, some of the titles and subject headings pique your interest!
Those that I have read, I've linked to my reviews.
Economics/Social Behavior
The Art of Choosing, by Sheena Iyengar
Gang Leader for a Day, by Sudhir Venkatesh
Off the Books: The Underground Economy of the Urban Poor
, by Sudhir Venkatesh
Banker to the Poor, by Muhammad Yunus
Battle Hymn of the Tiger Mother
, by Amy Chua
The Billionaire's Apprentice
, by Anita Raghavan
The Black Swan
, by Nassim Nicholas Taleb
Food
Cooked
, by Jeff Henderson
Yes, Chef
, by Marcus Samuelsson
Taco USA: How Mexican Food Conquered America
, by Gustavo Arellano
Curried Cultures: Globalization, Food, and South Asia
, ed. Krishnendu Ray, Tulusi Srinivas
LA Son: My Life, My City, My Food
, by Roy Choi
History/Current Events
The Inconvenient Indian, by Thomas King
The Devil's Highway
, by Luis Alberto Urrea
India Becoming
, by Akash Kapur
A Free Man: A True Story of Life and Death in Delhi
, by Aman Sethi
From the Ruins of Empire: The Intellectuals Who Remade Asia
, by Pankaj Mishra
Factory Girls: Young Women on the Move in Modern China, by Leslie Chang
The Jaguar Smile
, by Salman Rushdie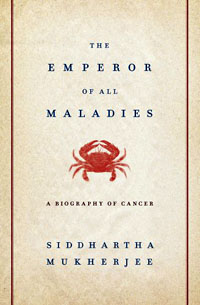 Science
The Emperor of All Maladies: A Biography of Cancer
, by Siddhartha Mukherjee
Complications: A Surgeon's Notes on an Imperfect Science
, by Atul Gawande
Better
, by Atul Gawande
Simon Singh - an author who focuses on a plethora of topics, including codes, the Big Bang, and mathematical phenomena
Michio Kaku - a "futurist" who writes a lot about the science of outer space, the future, and physics
Memoirs/Biography
Africa
The Boy Who Harnessed the Wind, by William Kankwamba
Kaffir Boy: The True Story of a Black Youth's Coming of Age in Apartheid South Africa
, by Mark Mathabane
An African in Greenland, by Tete-Michel Kpomassie
Asia
Kampung Boy, by Lat
Vietnamerica, by GB Tran
Reading Lolita in Tehran
, by Azar Nafisi
A Princess Remembers: The Memoirs of the Maharani of Jaipur, by Gayatri Devi
Americas
Is Everyone Hanging Out Without Me? And Other Concerns, by Mindy Kaling
The Rebellious Life of Mrs. Rosa Parks
, by Jeanne Theoharis
The Distance Between Us
, by Reyna Grande
Lakota Woman
, by Mary Crow Dog
Anything by Maya Angelou