Mindy Kaling's book
Is Everyone Hanging Out Without Me? (And Other Concerns)
was not really on my radar
.
I am not sure why, because I really love Mindy Kaling. But I generally don't like memoirs, especially when they are written by people around my age - seriously, how much life experience do you really have to talk about? But everyone told me Kaling's book was fun, and I like to support normal-sized, funny Indian women, so I went for it. And I really enjoyed it!
Kaling basically points out in the introduction that there's no reason
not
to read this book - it's not a huge time investment, she's a fun person, and so the experience is likely to be positive on the whole. This was pretty much rock-solid reasoning to me, so I was hers for the rest of the audiobook. Kaling also narrates the audiobook, and sometimes addresses the audiobook readers directly about the audio version vs the physical version, which was also a lot of fun.
I really, really like Mindy Kaling for several reasons, and this book just gave me even more reasons to be a fan:
As mentioned above, she is a woman who is happy with her weight and happens to be hilarious and Indian and famous, and this is rare and applause-worthy.
There was a wonderful story in this book about how Mindy went to a 50 Most Beautiful People shoot of some sort, but all the dresses there were size 0s, and she is a size 8, and she went into the bathroom and cried a bit, and then realized that she is awesome, and then she went back out, made the tailor take her favorite dress and alter it by adding canvas to the back, and then she wore it for her photo shoot and OWNED it: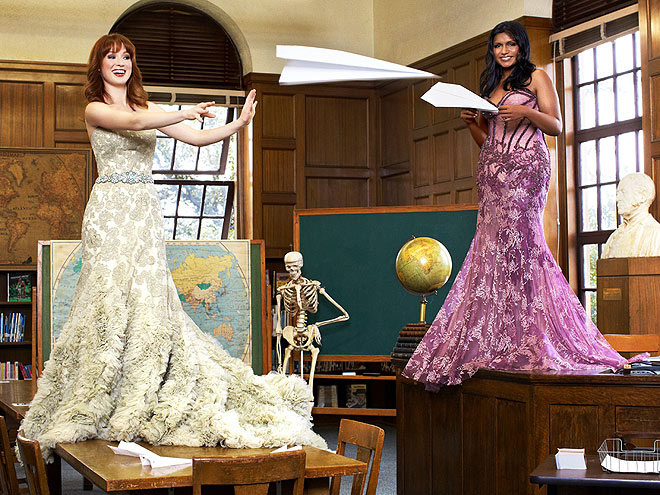 Source: Time Inc.
She is really smart, and she tells people who read her book that it is normal to want to be smart and that going to college will get you far in life.
She embraces the fact that she had an awkward, dorky stage. She was very quiet in high school, and she says that just because you are quiet and introverted in high school doesn't meant that you won't be witty and awesome later in life.
She just seems like a really nice person who is close to her family and forms friendships for life.
In the Q&A section at the back of the book, one of the questions she addresses is why she doesn't talk that much about the debate around how women aren't that funny. She says that there isn't a debate because women are funny, and it's not worth giving that "debate" any credence whatsoever.
Is Everyone Hanging Out Without Me? didn't change my life or make me think very deeply about most things, but perhaps if you are a teenager, it will change yours. I just find it so refreshing that Kaling is so honest and upfront about things in her life and in her past so that teenagers today don't have to think that life is supposed to be like Sweet Valley High for everyone, and that if it isn't, then you've failed.
Kaling also is super-fun to follow on Instagram.
Also
, she is the new spokesperson for Google's Made With Code to get more girls into coding.
Read all about it here
. Apparently, she really
is
super-popular with the teenage girl set.
Seriously, I wish we had overlapping Indian social circles, but alas... Really great book! If you want something fun and motivating and girly and feminist, read it!