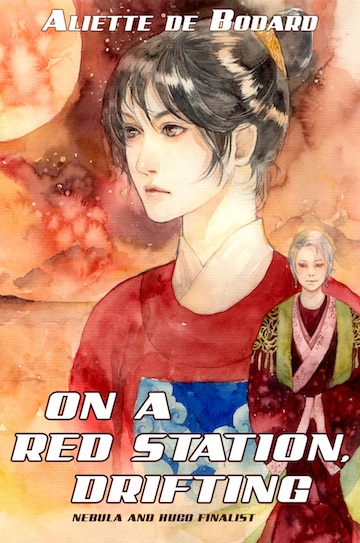 I first heard about Aliette de Bodard's novella
On a Red Station, Drifting
on
Stainless Steel Droppings
. I wanted the book as soon as I read Carl's review and promptly went over to Amazon to purchase it. So I hope you read his review, too, and that it has the same effect on you as it did on me. I don't read much science fiction, so I thought a novella written from an Asian female perspective was just the thing to get me to dip my toes into the genre:
For generations Prosper Station has thrived under the guidance of its Honoured Ancestress: born of a human womb, the station's artificial intelligence has offered guidance and protection to its human relatives.
But war has come to the Dai Viet Empire. Prosper's brightest minds have been called away to defend the Emperor; and a flood of disorientated refugees strain the station's resources. As deprivations cause the station's ordinary life to unravel, uncovering old grudges and tearing apart the decimated family, Station Mistress Quyen and the Honoured Ancestress struggle to keep their relatives united and safe. What Quyen does not know is that the Honoured Ancestress herself is faltering, her mind eaten away by a disease that seems to have no cure; and that the future of the station itself might hang in the balance…
There was a lot that felt unfamiliar to me about this book. I don't read a lot of science fiction, so already I felt a bit out of my depth right from the start, with all the action taking place on space stations and distant planets. I also don't know a lot about Vietnamese culture, and therefore wasn't always sure if I was a little lost because I didn't understand the culture or the setting. Regardless, I was a little lost :-)

But I expected to feel a little lost in reading a new genre, and I didn't mind very much. There was a lot that felt familiar, too, for those that know the fantasy and science fiction genres well - a once-prosperous place now fallen on hard times with a large population and limited resources. Failing infrastructure. A long, never-ending war that has taken away the heroes and left the defenseless alone. You know the story, right? But that's where de Bodard takes off into the awesomeness of a feminine perspective and an East Asian influence.
It is so rare (really, ridiculously rare) to see a woman's perspective in fantasy and science fiction, and even more abysmally rare to see the perspective of someone of color. It was so refreshing to read this book, with its two central characters both women, and neither of them with a romantic interest or "God, I wish I was prettier" thought in their heads for the whole book! Rather, both women were concerned about their friends and family and their ways of life. You know. Things that normal people care about. And, much like in real life, there is no villain in this story. There are just people with different perspectives who misunderstand each other and want different things.
And the Vietnamese perspective was so great, too. On a Red Station, Drifting gave me such a zing of excitement because it is such a wonderful example of all that fantasy and science fiction can and should be. It provides such a unique lens on the traditional hero story, one that includes things that are so important in Eastern cultures: respecting your elders, ancestor worship, and strong family ties. de Bodard brings these themes into her novella so seamlessly that you can easily imagine a future in which Eastern culture dominates, and see just what the positives and negatives of such a culture would be.
I'm pretty impressed that de Bodard was able to pack so much punch into such a short novel. Clocking in at just over 100 pages, On a Red Station, Drifting is not a huge commitment and therefore is an excellent introduction to the science fiction genre. It's also a lovely reminder of how many different ways there are to tell a story, ways that are influenced by culture, history, gender, religion, and different ways of viewing the world. Highly recommended.