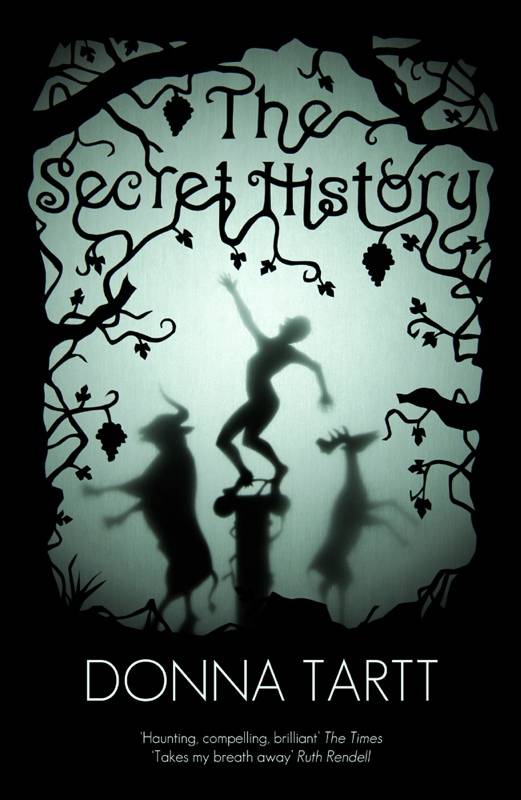 Donna Tartt's
The Secret History
is one of those sleeper hits of the reading world. A cult classic. I have had it on my bookshelf for years, but every time I picked it up, I was reminded of that Johnathon Jackson movie
The Skulls
, and would put it back down immediately. Then Long-Awaited Reads month came up and the book came up in my library audiobook queue, and it seemed like perfect timing!
The Secret History
is about a group of college students at a tiny, expensive but not elite, school in New Hampshire. They kill one of their classmates halfway through the novel (though we know they do this act at the very beginning of the book), so there's a lot of tense, disturbing, horrible build-up to the murder and then a lot of tense, disturbing, horrible aftermath. It's like
Crime & Punishment
, except with more people and no real redemption.
I admit that I didn't really care for this book. I appreciated it on an intellectual, objective level. Tartt is a craftswoman, building up the pressure like a volcano until even the reader is gritting her teeth and gripping the steering wheel as scenes and events are recounted. But I found the book long and tedious, with zero likeable characters and too many Greek quotes and comments about sentence structure. I'm glad to have finally read it, but it was a tough one for me to get through. Definitely one of those books that I stand on the other side of the majority on.
Jane and Prudence
is another book I took down from my shelf for Long-Awaited Reads Month, though I haven't had it
quite
so long as
The Secret History
. However, I have enjoyed the Pym novels I've read and I do want to read more and more of her, so I was glad to move from
The Secret History
to something a bit lighter and more fun. Though if you have read Pym, you know that even though her novels have a very subtle and witty humor, they also bring up a lot of wonderful points about what it's like to be a woman in different life stages.
Jane and Prudence
is no exception to this.
Jane is a middle-aged vicar's wife, just moved to a new small town and a bit intimidated by the people she meets there. Her younger friend Prudence is 29 and approaching spinsterhood, though she doesn't seem too concerned about it. Jane wants to match Prudence up with an eligible widower, but other characters have different ideas.
It's a short, easy to read book without any terrible events or huge climax, which is really just what one wants sometimes. And, in typical Pym fashion, this is done with wonderful commentary on the small, seemingly inconsequential matters that can define a life and many of our everyday interactions:
[After Jane was served one egg and one slice of bacon, and her husband was served two of each, with the waitress explaining that "A man needs eggs!"]
Nicholas accepted his two eggs and bacon and the implication that his needs were more important than his wife's with a certain amount of complacency.
One's married friends were too apt to assume that one had absolutely nothing to do when not at the office. A flat with no husband didn't seem to count as a home.
Indeed, there seemed to be little for the ladies to do but observe each other's hats, for their voices were seldom heard...their comments amounted to very little and were soon disposed of and even made to seem slightly ridiculous by the men.