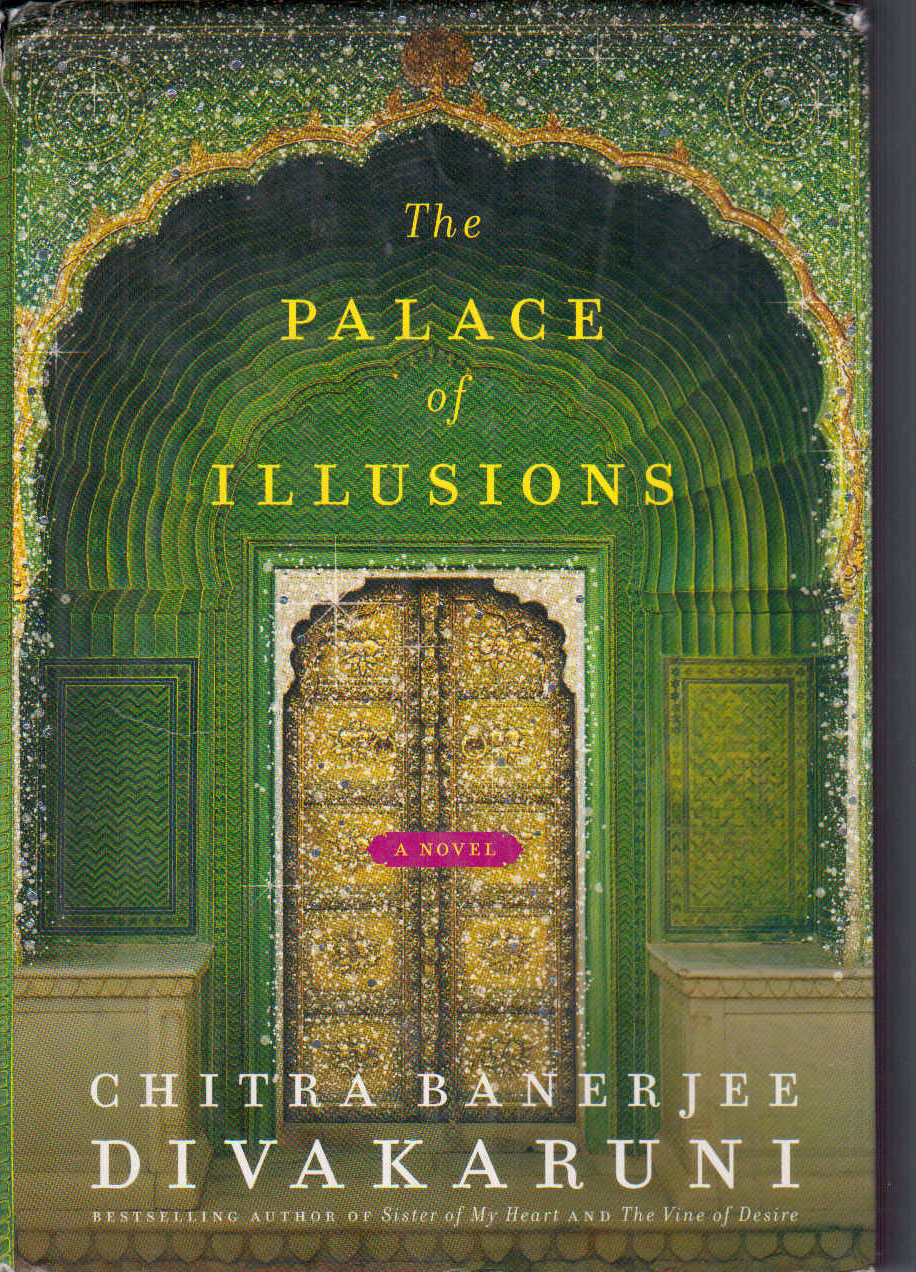 After learning the depressing fact that I read less than 10% from my TBR piles in 2014, I decided to read at least 2 books a month from my TBR pile going forward. The first book I chose was Chitra Banerjee Divakaruni's
The Palace of Illusions
. I purchased this book when it came out because, whoa! Feminist retelling of the
Mahabharata
, that is fantastic! I avoided reading this book for several years because, well, I wasn't sure if a feminist retelling of the
Mahabharata
was likely to be successful.
And I think my qualms were justified. Much as I hate to admit it, it is very, very difficult to write the
Mahabharata
from a woman's perspective, particularly from the point of view of Draupadi, who had basically zero agency in her whole life. She was born from fire to usher in the Kali Yuga, she was destined from a prior life to have five husbands, and people think she started a war that was probably more likely caused by one of her husbands' gambling addictions.
The
Mahabharata
is one of Hinduism's greatest epics, describing the end of the golden age and the start of the chaotic age (which we are still living in today, if you couldn't tell). It is a truly enthralling and entertaining story, but it's very heavy-handed with predestination and fate and KNOW YOUR ROLE OR THERE WILL BE CONSEQUENCES (this is, after all, the religion of the caste system). Really, when you think about it, no one in the story has much control over the major events of their lives because the gods all decided what would happen eons ago.
This is not to say that the
Mahabharata
is not worth reading. It is. I love it. There is SO MUCH going on there, so many side stories, so many giants of history - it's fascinating. But it's a difficult story to use to shift perspective. Perhaps if you are not familiar with the Mahabharata, this book would work better for you. But as someone with at least a passing knowledge of the story, this novel really didn't work for me.
The main reason for this is Draupadi herself. When she came of an age to marry, Draupadi's father held a huge contest for all the warriors in the land to come win her. They had to accomplish a very difficult feat. Arjuna, one of five Pandava brothers, won the contest and therefore won her hand. Through a weird twist in circumstances, Draupadi actually had to marry all
five
of the Pandavas, but Arjuna was the one who won her originally and the one she had been planning to marry for her whole life.
In this retelling, Draupadi apparently spends her entire life in love with Karna, a sworn enemy of the Pandavas (yes, all five of them). She sees a painting of him, someone describes his (admittedly very sad and pitiable) story to her, and then Arjuna just can't hold a candle to him.
I get wanting to give Draupadi SOME agency in her life because otherwise, there is not much there. But doing this is like re-writing the story of Cinderella, having her get all dolled up for the ball, and then, in a weird twist of fate, making Prince Charming fall in love with one of the ugly step-sisters before Cinderella even has a chance to win him over. It totally changes the ENTIRE story, and then you have to change EVERY OTHER part of the story somehow to make the circle fit the square. I just could not get over this fact. And the way Draupadi spends literally
decades
not even seeing or interacting with Karna but apparently thinking about him all the time, even while she has five other husbands right there, is just ridiculous. It's hard to take her seriously.
I also think that trying to fit the entire
Mahabharata
into one fairly slim book is a tall order. Divakaruni brought some stories to life here, especially those related to Bhima and Krishna, but she didn't flesh out most of the other people at all. Arjuna is one of the main characters in the
Mahabharata
and he barely says ten sentences in this whole book. I can see why this is the case if Divakaruni wants Karna to come out as the hero, but Arjuna is a pretty complex and interesting character in his own right, much like Lancelot, and he's given short shrift here.
There are some aspects of this book that I really enjoyed. Karna really was a pretty amazing person with a horrible string of bad luck, and it's nice to see him get some positive attention. Divakaruni makes pretty clear here how unfair people were to him his whole life and how the whole caste system mentality really took a number on him.
Krishna is probably one of the most-loved gods in all Hindu mythology, and he was great in this book. All vague pronouncements and comments about letting go and moving on and not getting too attached to worldly goods, shared in a sufficiently god-like fashion. Draupadi's relationship with Krishna starts out as friendship, turns into something similar to a parent-child relationship, and finally ends with a really beautiful section about her personal relationship with God.
I have a feeling my reaction to this book is based a lot upon having read and heard so many of these stories growing up, and watching the amazing television spectacle every week with my whole family growing up. It's hard to have one version of the story in your mind and then read this one. I would suspect that if you are not familiar with the
Mahabharata
, you might enjoy this book more than I did.