Michele Norris'
The Grace of Silence
began as a book about race and America's conversation on race after Barack Obama was elected president. Over the course of her research, Norris realized that her own family had a lot of secrets that were withheld from her growing up.
The Grace of Silence
is about her discovery of these facts - her father being shot in Birmingham, Alabama after he came back from WWII; her grandmother's stint as a traveling Aunt Jemima, selling pancakes under a trademark that many still view as racist. Norris takes us on a journey to her past - first, her time growing up in the Twin Cities, then further back to her ancestral home in the Deep South. We get to know her parents, grandparents, and extended family, and her quest to learn more about the things no one talks about.
I am an NPR junkie. I'm also fascinated by looking at American history (and all history) through different lenses and perspectives. So
The Grace of Silence
was right up my alley. I really enjoyed the way Norris interspersed facts about American history into her personal story. For example, her father fought in World War II, but when he came back to the US, he still faced institutional racism and a lot of hate. When her parents bought a house in Minneapolis, they were the first Black family in the neighborhood; nearly all of their white neighbors moved out as quickly as they could, frightened by mortgage lenders and real estate agents that their home values would plummet if they stayed.
Norris didn't spend as much time on her grandmother's story as I would have liked, probably because there wasn't a lot of information. But I was surprised to hear about the women who traveled the Midwest (and other regions of the country), dressed up as Aunt Jemima (who resembles the "Mammy" of the antebellum South). There aren't many records of these women because most of them worked for a regional sales force, not a centrally managed one. And not many people are around today that would remember that period. (And so, small pieces of history are lost.) And Quaker Oats has struggled with how to deal with the baggage that comes from a trademark that started out looking like this:
Evolved from a caricature to a real woman, though the woman spoke in quite the dialect: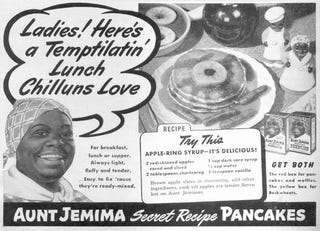 And now is a painting that looks like this and never talks:
Norris talks about how Quaker Oats wanted a celebrity spokesperson for the brand after the last one passed away in the 1950s, one to bring Aunt Jemima forward and modernize her. The only problem was, no one wanted to be a spokesperson for the brand any more. It's hard to forget that racial baggage.
No one told Norris about her grandmother's early job acting as Aunt Jemima, probably because they were ashamed. Similarly, no one ever told her about her father being shot by a policeman in Birmingham one evening. Norris' take is that her family wanted to let go of the hate and move forward. They didn't want her to grow up thinking that all the odds were stacked against her. They wanted her to be what she wanted to be, without restriction.
Norris makes an interesting point. In the US, we talk about race incessantly, often with people who look and think like us, and not often across the color barrier. The conversations, then, don't evolve as they could because they continue to be one-sided. Once you bring another race in, people clam up. White people are scared that they'll be seen as racist, Blacks are afraid they'll seem angry and confrontational, and it becomes uncomfortable very quickly.
Obviously, the US has a lot of racial baggage. But should we continue to tell white children not to trust black children, and tell black children not to trust the police, and continue on as we are? Or should we try to stop that cycle? Keep our negative experiences and biases to ourselves so that the next generation can grow up with a little less fear and distrust than we did? It's a point worth considering, though obviously it runs the risk of all of us forgetting our collective history. But as science shows us, more and more, just how similar we all are, and just how small and fragile our world is, and just how massive and varied is the universe out there, maybe it's not the worst thing to use the mindset of a global citizen, rather than one tied to any one country or region.
Lots to think about in this book. Check it out and let me know your thoughts!