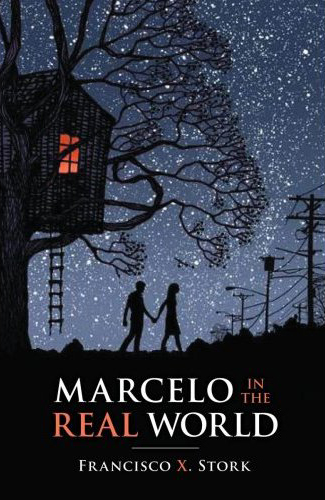 Marcelo in the Real World
, by Francisco X. Stork, will definitely be in the running this year for best cover. This book really took over blogosphere when it came out, so I've been wanting to read it for a while. At first, I didn't really enjoy the audiobook version because the narrator seemed very stiff and did not inflect his voice much. But then I realized that the narrator was speaking in the way that Marcelo, the main character, would speak. Marcelo has a form of autism close to Asperger's, and it is difficult for him to put inflection into his words. After that, I decided that the narrator was quite good!
Marcelo in the Real World
is about Marcelo's first real job, working in the mail room at his father's highly successful, cutthroat law firm. The law firm defends large corporations in liability suits, so there are a lot of gray areas and difficult situations. You would expect these to stay out of the mail room, but you'd be wrong. Much like the other book by Stork I have read,
The Last Summer of the Death Warriors
, this novel seems like it would be pretty easy to follow, with few nuances. But that's just absolutely not true.
Stork doesn't take the easy way out, letting Marcelo learn about the world by getting lost and terrified or by achieving small victories. No, Marcelo confronts very complex office politics, the barriers of the class system, moral ambiguity on a huge scale, the fine points of the law, the knowledge that his father has feet of clay, and so, so much more. He faces a serious ethical dilemma, helped along by a beautiful woman that everyone finds very attractive except, perhaps, for him. And through it all, he really stays true to himself and his character in a way that is just wonderful to read. Truly a fantastic read - I highly recommend it!