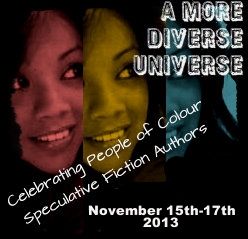 #Diversiverse weekend has arrived! We had more than 50 people sign up to participate, which is a very exciting number. I'm so thrilled to read everyone's posts and so looking forward to adding lots of new books to my wish list and TBR pile.

Once your posts are live, please link them through the Mr. Linky below. Please use the following format and please link directly to the blog post (not to your blog main page).

Book Title, by Book Author - Blog Name

And please use the button above to bring attention to the A More Diverse Universe blog tour.

Happy reading! And remember, we must create the bookshelves we want to browse, so if you want to browse a diverse shelf, read diversely!