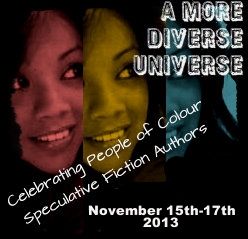 Last week, I wrote about the
A More Diverse Universe
blog tour coming in November! Then I did zero things to raise awareness around it. Maybe a few tweets. And, depressingly, only 15 people have signed up so far. Well, that's not fair. I said people
could
sign up via the Mr. Linky on the blog post (and I think if you are on Chrome, you may not even be able to
see
the Mr. Linky). But no one
needs
to sign up because the event is far less structured than last year in the hopes that it will be quite easy to manage. So maybe everyone plans to participate but just didn't want to deal with Mr. Linky? Fingers crossed that is the case :-)
I know that many people say this all the time and I am just repeating what has been said many times before, but seriously, blogging can be really
hard
sometimes. It's difficult to do it well when you have other commitments in your life, and those commitments just keep getting bigger and take up more and more time. So then you have less time to read and even less time to blog, and you sometimes feel annoyed that you are trying to catch up on blogging instead of doing so many other brilliant activities that you can't think of at the moment but are sure that you
could
do if you just had the time to spend doing them. So then you blog, but maybe you don't put your heart into it, and you aren't sure if you are even doing it that well. And I have enough of a Type A personality to not really want to do something if I can't do it well.
So how does that relate to
A More Diverse Universe
? Well, I really want the event to happen again, and I want it to be great, but I also just do not have the time (though I hope I
do
have the heart) to put that much into it, and so I am not convinced that I am doing it well. And in that case, is it worth me doing it?
Just to throw it out there, I am going to be really, really disappointed with myself if
A More Diverse Universe
tour is not at least as big (fine, let's be honest - bigger) than last year
even though
I said in last week's post that this year it's being done on the fly because there just isn't the bandwidth to do more. And
even though
I
know
I just can't talk it up or hype it up or do as much for it as before. I still want it to be huge and amazing and a small but important impetus for social change. I just want it to do that with minimal help from me. OR, I want to have enough time to work on
A More Diverse Universe
and make it a grand success without giving up all the other things that I could be doing with my time instead.
I realize this is completely illogical. It makes no sense and puts a lot of pressure on me for no reason. But when you spend a lot of time doing something - and that something takes time away from you doing other things - then you want to see some sort of pay-off. And obviously there isn't a monetary pay-off, so I need SOMETHING. Blogging is, in essence, our attempt to win friends and influence people. You hope that what you say will somehow convince someone else to pick reading a book you recommend over doing something - over doing
anything -
else with that amount of time that they have available. And big blogging events like
A More Diverse Universe
are asking for even more. Now, you are no longer saying "read this book" but "read this type of book right now" and, if the event is truly a success, "read this type of book consistently for the rest of your life." How do you convince someone you've never met to make a commitment to a cause that matters to
you
but not necessarily to her? And what happens to your self-esteem when you judge your own success on your ability to do just that?
It's hard for me to think of blogging as a hobby. I enjoy it, yes, but I also feel like it's an obligation I have - to myself, to other people, to the history of me having done this for eight years, to the authors I love, and to the books I want other people to read. I approach blogging like it's a job that I have to do to get the result that I want: influence over people's reading choices. And while that may take some of the fun and spontaneity out of blogging, it also drives me to put much more time and effort and thought into it than I otherwise would. I need to know that it matter
It's easy to generally believe that your blog is important and people read it and think about what you say and will maybe read the books you recommend. But it all becomes
much more real
when you host an event like
A More Diverse Universe
and hope desperately that people sign up and participate to prove to yourself that you count. That when you speak, people listen. It's like hosting a party and 30 minutes after the start time, no one has arrived, and you start to feel that panicky feeling in your gut that while people enjoy your company, no one wants to be the first one to arrive, and you didn't realize it until just now.
I realize this post probably sounds quite needy and perhaps you think I am trying to guilt you into signing up for
A More Diverse Universe
. I'm not. (Um, but I think you should. Obviously. See entire post above.) It just got me to thinking about how vulnerable we can be here in the digital world. When do all of you feel most vulnerable while blogging and how do you deal with it? And how do you feel about the idea of "doing something well or not doing it at all?"